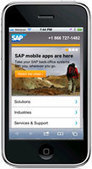 It's no secret: brands and businesses that have mobile websites and apps are a step or two (or more) ahead of the game. Why? Because 31 percent of Americans own a smartphone and one in three would rather give up TV than be deprived of their smartphones, according to ourmobileplanet.com.

But it goes beyond just having a mobile site. Similar to traditional desktop sites, mobile sites, too, need to be optimized properly to perform to their full potential.

The concept is simple: offer a mobile site with the same or similar content as the desktop site to satisfy those who use mobile devices for some, most, or all of their web searches. Sure, there are a lot of overlapping aspects with traditional SEO, but the idea and practice go far beyond that, focusing on true mobile SEO.
There are some very important aspects that will help you take charge of your brand's mobile web presence.
Find out more: http://www.clickz.com/clickz/column/2206410/the-6-top-mobile-seo-mustknows