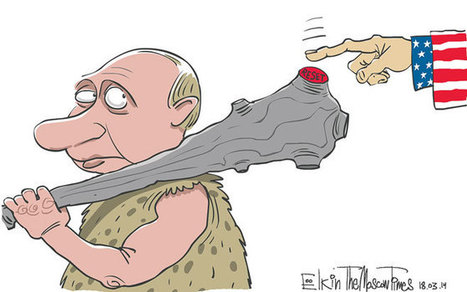 I ended my previous column in this newspaper with these words: "I am afraid that when we wake up tomorrow, we will find ourselves in different country. I even know the name of that country: the Soviet Union." But despite my pessimism, I never dreamed it would happen this quickly. The current pro-Kremlin rallies with their chants of "We believe Putin" are even more alarming than the Soviet-era slogan of "We support and approve of the Communist Party's policies."
___________________________________
The weakness that the U.S. and other developed democracies have shown in standing up to Putin over the years has led in no small part to the rise of his agressive policies.
___________________________________
Foreign Minister Sergei Lavrov claims that Crimea is no less important for Russia than the Falklands are for Britain. However, he conveniently overlooks the fact that the Falkland Islands belonged to Britain before the Falkland war started, while Crimea had already been a part of Ukraine for 20 years before Russia made its first moves over the past three weeks to incorporate the peninsula into Russia. Putin's actions in Crimea signify the resurrection of Soviet leader Leonid Brezhnev's "limited sovereignty" doctrine.
When Russian leaders begin speaking of "protecting the rights of our countrymen" in other lands, it calls to mind not the Soviet government, but the most frightening totalitarian state of the 20th century. In the span of a few short weeks, Russia has managed to restore an "Iron Curtain" and launch a military confrontation reminiscent of the worst years of the Cold War.