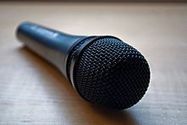 Metropolis, USA: Fresh on the heels of the public meeting of Fr. James Martin, Cardinal Dolan, and Stephen Colbert ("The Cardinal and Colbert: Humor, Joy, and the Spiritual Life") at Fordham University, our local RBCU* held its own "humor summit."
Dean of Student Life, Jillian Rousseau, said "Some students were intrigued by the very idea of religious people being funny, or clever, or smart. Plus a few administrators said we can't let Fordham get away with this coup. So we began looking for Catholics to participate in the first annual RBCU "Catholic + Humor Summit 2012."
"The difficulty was finding people who were available, and well, funny," noted RBCU President Fr. Aaron Deerhouse. "And we knew we would need a published author on humor, a prelate, and a TV personality. So, um, we decided to keep the line up a secret, to build suspense. And get people to come."
Dr. Therese Juneau, Theatre Department, warmed up the crowd by telling jokes that began with "A Priest, A Rabbi, and a Secularist walked into a bar...." After that, the evening's line up were walked in, blindfolded. With a flourish and quick manacle work, they were locked to chairs and blindfolds removed. They looked at each other, confused.
[click image for more]