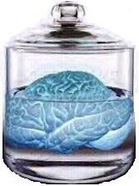 A certain one there be who came to Cap'n Jesus, an' he said, "Scullmarster, What good thing must I be doin' to secure me spot is safe ports 'til the seven seas goes dry?"
And the Cap'n, he said, "What line o' barnacles izzat? If fer quiet portsa fer all time is what ye seek, then obey the High Admiral's commands!"
"Which be they?" he was askin'.
"Have ye no' read th' list?" bellowed the Cap'n. "Don't be endin' yer fellows' voyage prematurely! No swashin' another man's buckles! No plunderin' ill-gotten booty! Speak truly! Be givin' yer mater and pater their just dues! Be treatin' all as ye treat yerself!"
[click for more]