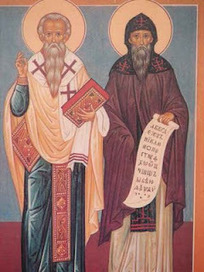 Heaven: By definition, everything is good and right in heaven. But it doesn't mean that saints don't have feelings.
That's the message that has been leaked by Slavonic members of the heavenly chorus this February 14th: although they don't begrudge the honoring of Saint Valentine this day, the communion of saints think Cyril and Methodius would like a card or prayer or two.
"The thing is, we all know Valentine. And he's a great man, a martyr and a great saint. But you know, Cyril and Methodius were great evangelists who brought the liturgy to the Slavic peoples at great costs. Cyril even created the Cyrillic alphabet, for Pete's sake, and they promoted Mass in the vernacular about 1000 years before it was popular. We all know they have received their reward, but they may like a fancy card too, don't you think?" said a saint who preferred to remain anonymous in order to give the glory to God alone.
[more at the title, click through]