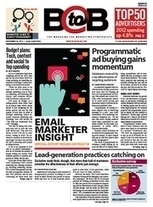 Excerpt...
Marketing automation company Marketo Inc. is set to introduce an email marketing solution intended to transition marketers from traditional platforms to automated email campaigns.
Marketo's Dialog Edition, available Oct. 25, allows marketers to respond to individual behaviors in real time with personalized content triggered by interactions on websites, social networks or previous emails. The platform can automatically move prospects and customers among content streams based on their behavior and manage communications across customer life cycles without manual intervention, the company said in a statement.
___________________________________
-Receive a FREE daily summary of The Marketing Technology Alert directly to your inbox. To subscribe, please go to http://ineomarketing.com/About_The_MAR_Sub.html (your privacy is protected).
-If you like this scoop from The Marketing Technology Alert (brought to you by iNeoMarketing), PLEASE share by using the links below.