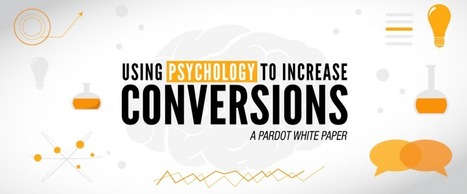 Excerpt...
Our newest white paper, "Using Psychology to Increase Conversions," was written to educate marketers on these psychological principles and give them a powerful new dynamic in their marketing strategy. By leveraging the power of human instinct, you can be more effective at grabbing consumers' attention, holding their interest, and facilitating action.
Let's take a look at what's covered:
Social Proof: When making decisions, we often look at the behavior of others as an example.
Loss Aversion: The desire to avoid loss is a strong motivator for many.
Anchoring: In decision making, we often judge our options by the first piece of information we have.
Foot-in-the-Door: Agreeing to a small task will make it harder to say no to a large task later.
Authority: We are more persuaded by people and companies that we perceive to have authority.
With the psychological principles, you will be able to tweak your conversion points to be more persuasive and convert a higher number of leads. Keep in mind that these principles are meant to guide the design and approach of your conversion points, not to manipulate your customers. Use the tips and suggestions in this white paper responsibly and honestly.