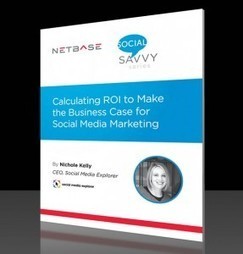 Nichole Kelly, in partnership with NetBase, release a new eBook in the Social Savvy series which shows marketers how to measure social media ROI.
Digest...
Everyone's doing social media marketing, but does anyone know if it's worth the investment? The people we marketers report to—the ones who sign off on budget requests—and we ourselves want to know how we can measure the return on our investment in terms of business metrics like leads and sales.
The new eBook, called Calculating ROI to Make the Business Case for Social Media Marketing, describes a methodology for measuring social ROI, explains where social media fits into the traditional sales funnel familiar to business decision-makers, and offers advice on aligning social goals and metrics. You can get a free copy here.