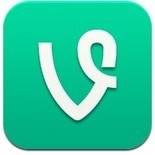 If you're one of those super-early adopters of Vine, there's already a way to get a basic snapshot of how your six-second videos are performing.
The folks at Simply Measured have launched a simple Vine statistics report that brands or individuals can use. The service is basically free; it only costs you a tweet announcing that you're using the tool.
Once the report is ready, you'll be able to see a variety of stats related to engagement for your Vine videos shared during the previous seven days.