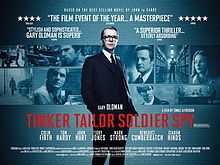 "I sat in my seat and felt smug in the knowledge Michael Bay could not interfere with my night."

Tomas Alfredson brings John le Carré spy novel Tinker Tailor Soldier Spy to life but it feels like it's been a long and difficult task and that traditional Hollywood would have thrown it away a long time ago. I may have said "spy" and so have all the trailers but do not expect any Bourne like car chases or perfect fighting moves in this one. Tinker Tailor Soldier Spy is two hours of pure dialogue and although that sounds understandably boring Alfredson demonstrates how vital a look or a bead of sweat can be to the narrative.
Read the entire review by clicking the title of this post.