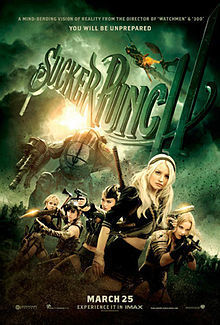 "It's less high brow and more Xbox"
Following the recent trend of my reviews, Sucker Punch is another new DVD release, yet the problem with reviewing it is that the critics have said it all, really. Sucker Punch is a mess of a film that director Zack Snyder should not list on his CV next time he is pitching a film. I ended up checking the plot of the film on Wikipedia as it never seemed sure what it was doing and only acted as the background to predictable and repetitive action sequences
The story starts with a 20 year old nicknamed "Babydoll" (Emily Browning) who is sent to a mental institution after her mother and sister are killed by her sexually abusive stepfather (Gerard Plunkett). The institution and her stepfather convince the authorities to have Babydoll lobotomised, and upon waiting for this to happen Babydoll spirals into different fantasies which consume almost the entirety of the film. Babydoll fantasies she is in brothel run by a mobster character called Blue, where she befriends other girls and plans an escape. On being forced to dance Babydoll fantasies she is fighting a variety of characters from wartime Nazis to futuristic robots......
Read more by clicking the title of this post.