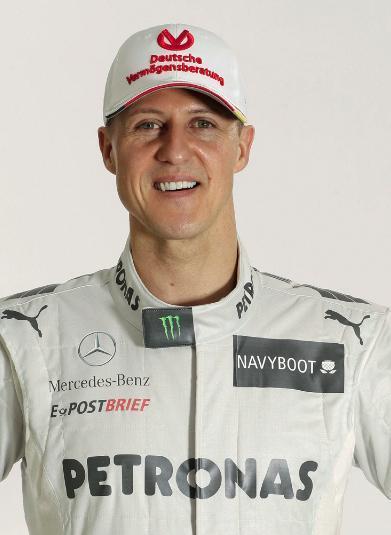 German seven-time Formula One™ racing World Champion Michael Schumacher will make an appearance in Oklahoma City, Oklahoma during the 2012 National Reining Horse Association (NRHA) Futurity & Adequan® North American Affiliate Championship (NAAC) Show on Friday, November 30 at 6 p.m.
During this year's "Speed Edition", Michael Schumacher will climb in behind the steering wheel of an agile reining horse to take it for a spin. He will serve as the Master of Ceremonies, welcoming "hometown hero" Team Fire and Team Police to the competition arena.
Schumacher currently drives for the Mercedes team and is widely regarded as one of the greatest Formula One drivers of all time. He tops many of Formula One's driver records: most championships, race victories, fastest laps, pole positions, points scored, most races won in a single season, earliest world champion, podium places and leading laps.
According to the NRHA, "intuitive ability to adapt instantly to changing conditions and keen perception on the track will help this gifted athlete to master a reining horse in the arena."
Spectators will be encouraged to cheer on their favorite team of freestyle reiners in a friendly "firefighters vs. police officers" competition!
@FranJurga wrote: Does Michael Schumacher have any idea how fast these horses move? It does sound like fun, and what a great celebrity to have in the arena!
Follow Fran Jurga for equestrian sport and horse health/welfare news:

On Twitter: @FranJurga

On Facebook: www.facebook.com/franjurga

The Jurga Report blog for EQUUS Magazine: http://blogs.equisearch.com/horsehealth

Fran Jurga's Hoof Blog: http://www.hoofcare.blogspot.com