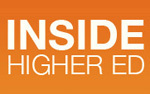 RT @IHEtech: Are "bookless #libraries" a myth?
"... academic libraries buy fewer and fewer books because the rent keeps going up. This rent, of course, is not for space – though that's expensive, too. I'm talking about all that electronic stuff, the stuff that the would-be book burners and banners assume is free. When you know that a subscription you've been spending tens of thousands of dollars on will vanish if you fail to pay the rent, you trim where you can, and for the past thirty years, that's been the book budget, which is more discretionary than those demanding subscriptions. No wonder university presses and other scholarly book publishers are banding together to license digital book collections by subscription. It seems the only way to guarantee your product will get into libraries is to charge a lot for something that disappears if you stop paying.
No matter how innovative the bookless library sounds, this isn't a situation we planned. If the academic library of the future is bookless, it won't be because of vision. It will be because of the lack of it."
Read more: http://www.insidehighered.com/blogs/library-babel-fish/myth-bookless-library#ixzz1dwTmh8VA
Inside Higher Ed