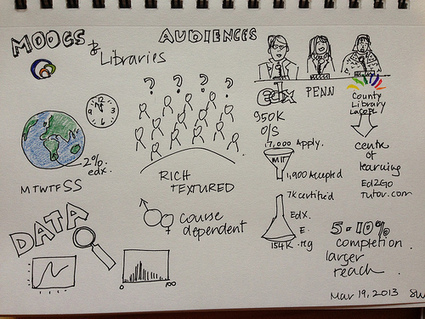 "...some positive and meaningful ways that librarians can engage with MOOCs.
the outcomes in 9 rough categories.
Get the library involvedStart talking/collaborating/sharing between librariesTake MOOCsGet in front of licensing and accessCreate MOOCsSupport MOOC facultySupport MOOC studentsCreate in-person support opportunitiesRe-assess library assumptions and practices
Of these, from my perspective, the things that every librarian can do is to take a MOOC, and contribute to the conversation by listening to others who have been invovled in MOOCs, and sharing information and experiences.
[...]
[This is the fourth posting in a short series on the forum on MOOCs and Libraries held by OCLC and the University of Pennsylvania Libraries, March 18th and 19th, 2013.]
This, alongside the copyright session, was the most meaty in terms of seeing where libraries are currently connecting with MOOCs — as I learned during my investigations, there are a lot of people with opinions about MOOCs and libraries, but not many folks with hands on experience. This session focused on where library research skills fit into MOOCs, where that might take us.