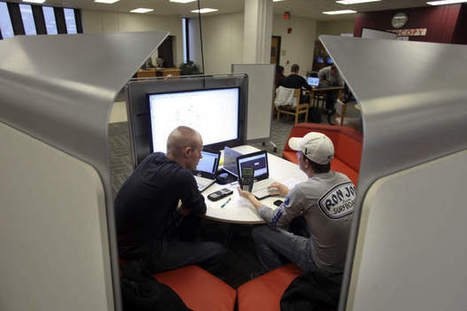 by
TONIA MOXLEY
Welcome to the modern research university library, where new skills and even new spaces are being developed to serve the needs of scholars, scientists and students working in the digital age.
From a digital-ready classroom to furniture reminiscent of the starship Enterprise, library officials say they are developing new ways to serve the campus, and the public.
As libraries transform for the digital age, "it's an exciting time," said Judy Ruttenberg of the Association of Research Libraries, a membership and advocacy organization for 125 of the nation's largest research libraries, including the Library of Congress.
"When university libraries housed large print collections and people had to come there to use them, that was a different model. Now students, scholars and researchers have many options, and the library serves in a different way," Ruttenberg said.
To keep libraries relevant amid the rapid expansion of Web-based information, Tech officials are using architects and student advisory committees to develop spaces and services that draw the campus into the library.