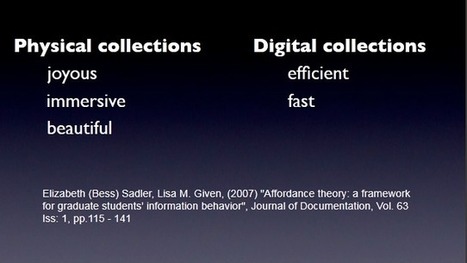 Enabling the #Research 'Flow' and Serendipity in Today's Digital #Library Environment http://t.co/ZZ2SC9hV #Librarians #DigitalLibrary...
by Bohyun (Library Hat).:
"The fact that today's libraries no longer control the physical surroundings of a library patron who is making use of their resources doesn't mean that there are nothing libraries can do to make the research environment facilitate serendipitous discoveries and the state of 'flow' in a researcher's mind, however. Today's libraries offer many different systems for library users to access their online resources. As I have mentioned above, the interfaces of these systems can use some vast improvement in usability. When there are as few hindrances as possible for a library patron to get to what s/he is looking for either online or at the physical library space, s/he would be able to concentrate on absorbing the content more easily instead of being bogged down with procedures. The seamless interoperability between different systems would be very much desirable for researchers. So, improving the usability of library systems will take library patrons one step closer to obtaining the flow state in their research while using library resources online."