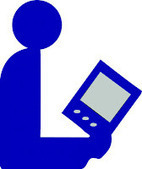 "Ever wonder why many of your favorite authors aren't available in an eBook or eAudiobook format from New Jersey libraries? The answer might surprise you..."
• Publishers who refuse to sell eBooks and/or eAudiobooks to libraries;
• Publishers who charge libraries as much as 5 times more than consumers for the same digital content;
• Publishers who embargo their content and will not sell to libraries any newly published digital content;
• Publishers who make digital content available in only some formats (ePub but not Kindle for example).
For years libraries have worked hand in hand with publishers. That relationship has now changed drastically and we find ourselves unable to deliver the digital content library patrons want."