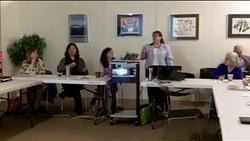 by DIANE VAUTIER:
"U.S. libraries of all types continue to make increasing use of social media and Web 2.0 applications and tools to connect with library users and to market programs and services according to the American Library Association.
"But change still continues to be a major factor when it comes to adding social media and web 2.0 to the library mix. Shift happens and will continue to drive change, specifically when it comes to content creation and content curation.
Librarians would do well to follow the same steps as does small business when it comes to content creation using social media:
Find your audience
Set your goals
Start with the basics and optimize those accounts Build a team
Create a Content Map
Link accounts – Connect, connect ,connect – your social network.
Content curation is where libraries and librarians have a natural advantage because it's already what they do everyday. Librarians have content curation super powers. Now that content curation has moved from an in-person resource to an online resource however, librarians are in a unique position to help patrons manage the online information overload, and they can use social media tools to do it. Social media can help libraries become more highly visible and useful to the communities they serve.
If you'd like additional information on this presentation, you can find the slide deck on SlideShare and the full video on Vimeo."
http://www.slideshare.net/dvautier/libraries-and-social-media