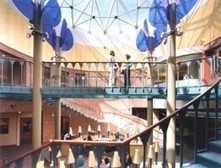 By Charles G. Mueller
An architect's perspective on designing for changing constituencies
"To some librarians it must seem like a perfect storm: Budgets are being slashed, ebooks suddenly are outselling their print ancestors, electronic movies on demand are slowing over-the-counter DVD lending..."
"Besides librarians, architects are among the people most concerned about how, and how rapidly, such trends play out. Plans made a year ago for library additions or even modest renovations—never mind an entirely new building—are probably out of date. Longstanding formulas to calculate the space required for stacks, seating, and even computer stations no longer apply. The library standards codified in many states, often a criterion for funding, would probably result in a library design that is larger than necessary, or certainly too big or too small in all the wrong places."