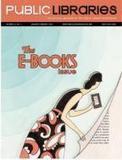 RT @gluejar: Libraries "don't have the luxury of waiting for things to work themselves out." http://t.co/j96Ze314 by @theanalogdivide...
Toby at theanalogdivide@gmail.com:
"As libraries start to take a longer view, we can start thinking creatively about other features e-books can offer. Imagine library e-books that not only could be checked out, but that connect you to a real-time network of associated information and a community of other library users sharing their own reactions and commentary.7 This goes beyond the popular concept of the library as place, rather positioning the library as a platform — a springboard for research, conversation, and building community. To get there, it's going to take a mix of comprehensive training, community support, and homespun innovation. I hope you'll join me in pushing things forward."