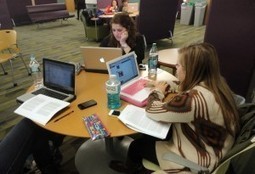 Matthew Volkov:
"Although many claim that the traditional library is loosing its relevance, UR libraries have managed to stay afloat thanks to digital innovations and student support services."
They made use of [...]
"The research report, which has since been applied by more than 40 university libraries worldwide, is entitled "Studying Students: the Undergraduate Research Project at the University of Rochester."
Since then, the library and its staff have made every effort to ensure that UR's library system stays relevant to students.
"We want to figure out what technology students are using and ensure that our capabilities match up with what students need," Rush Rhees Librarian Eileen Daly said.
Students can now chat live or text with librarians during the day to get help with research or writing projects. The library's website can also text students the call numbers of books found through the reference catalog.
On Monday, Feb. 6, the library released an application that allows students to search virtually all of the library's article databases and access the articles via smartphones."