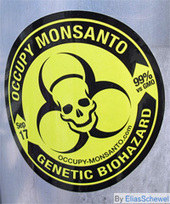 FIRST WATCH (RE-WATCH)
WATCH (AGAIN) "Food Inc." (2008) And Obama, USDA promote and foster this?
http://www.scoop.it/t/agriculture-gmos-pesticides/p/3732889325/watch-again-food-inc-2008-and-obama-usda-promote-and-foster-this
December 14, 2012:
"The Farmers Assurance Provision" is the title of a rider, Section 733, inserted into the House of Representatives 2013 Agriculture Appropriations Bill. Somehow, as a farmer, I don't feel the least bit assured.
The only assurance it provides is that Monsanto and the rest of the agriculture biotech industry will have carte blanche to force the government to allow the planting of their biotech seeds.
In addition, the House Agriculture Committee's 2012 farm bill draft includes three riders – Sections 1011, 10013 and 10014. These amendments would essentially destroy any oversight of new Genetically Engineered (GE) crops by the United States Department of Agriculture (USDA)....
http://www.commondreams.org/view/2012/12/14-1
US Department of Justice Mysteriously Quits Monsanto Antitrust Investigation
http://www.scoop.it/t/agriculture-gmos-pesticides/p/3570759837/us-department-of-justice-mysteriously-quits-monsanto-antitrust-investigation
The "Monsanto Rider": Is the Biotech Agricultural Cartel About to Gain Immunity from Federal Law?
http://www.scoop.it/t/agriculture-gmos-pesticides/p/2132996096/the-monsanto-rider-is-the-biotech-agricultural-cartel-about-to-gain-immunity-from-federal-law
Obama seeks to aggressively promote biotechnology, reducing approval times, independent peer review
http://www.scoop.it/t/agriculture-gmos-pesticides/p/2256091418/obama-seeks-to-aggressively-promote-biotechnology-reducing-approval-times-independent-peer-review
Obama - Monanto Man: Wants a Synthetic Genetically Engineered Future...Gives Free Rein to BioTech Industry
http://www.scoop.it/t/agriculture-gmos-pesticides/p/2256142450/obama-monanto-man-wants-a-synthetic-genetically-engineered-future-gives-free-rein-to-biotech-industry
THE GMO SEED PATENT GAME: How Seed Companies Control GM Crop Research? - Scientific American
http://www.scoop.it/t/agriculture-gmos-pesticides/p/946593435/the-seed-patent-game-do-seed-companies-control-gm-crop-research-scientific-american
SEED MONOPOLIES and GMOs... The Biotech Cartel End Game ... Reaching the point of no return
http://www.scoop.it/t/agriculture-gmos-pesticides/p/2606416839/seed-monopolies-and-gmos-the-biotech-cartel-end-game-the-point-of-no-return
"GMOs in the pipeline: Looking to the next five years" The Coming Agricultural Biotechnologies
http://www.scoop.it/t/agriculture-gmos-pesticides/p/3444028050/gmos-in-the-pipeline-looking-to-the-next-five-years-the-coming-agricultural-biotechnologies
How Biotech Corporations and GMO Crops are Threatening the Environment and Humankind Alike
http://www.scoop.it/t/agriculture-gmos-pesticides/p/3583767396/how-biotech-corporations-and-gmo-crops-are-threatening-the-environment-and-humankind-alike
WHO OWNS YOUR FOOD? GMO giant hires retired cops to hunt down farmers
http://www.scoop.it/t/agriculture-gmos-pesticides/p/3719245557/who-owns-your-food-gmo-giant-hires-retired-cops-to-hunt-down-farmers
Via
pdjmoo