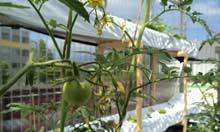 Fish farms have proved controversial in the estuaries of north Atlantic salmon rivers and in the Mediterranean, with anglers and environmentalists claiming their byproducts are seriously damaging the natural habitat.
But a project in Germany aims to feed growing urban populations by bringing aquaculture into town centres, putting tanks on rooftops and car parks and using the waste to grow vegetables.
The idea is simple. Perch swim in metal water tanks and the ammonia they excrete is used to fertilise tomatoes, salad leaves and herbs growing in a greenhouse mounted above. Aquaponic fish and vegetable farms aim to provide a self-contained system designed to provide city dwellers with organic, sustainable locally grown food.