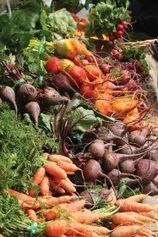 The recession was brutal for the organic sector. When the global economy crashed in 2008, retailers were quick to delist organic lines. Vegetables, for most consumers, were simply vegetables; shoppers were not prepared to pay the premium for an organic version, supermarkets reasoned. Gone was the double-digit growth of the early 2000s.
Between 2008 and 2013, the organic market declined by more than 20 per cent, explains Rob Howard, managing director of Riverford Organic. The fact that box schemes such as Riverford managed to grow in such tough trading conditions (sales increased 25 per cent in the past five years, with turnover for the past year reaching £45 million) shows how its strategy of increased deliveries, new products and improved digital technology paid off.
Likewise Abel & Cole, Riverford's main box scheme rival, increased turnover by 20 per cent in the past year, according to the Soil Association's 2013 annual report.
Today, the organic market – 70 per cent of which is controlled by the supermarkets – still has problems. Kantar data for the 52 weeks to 18 August 2013 shows sales of organic produce declined 4.4 per cent in value to £181m. Volumes were down 6.8 per cent. Decline in the market was driven by veg, with fewer shoppers and a decline in purchase frequency the main reasons.