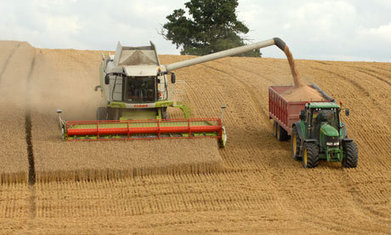 The wettest autumn since records began, followed by the coldest spring in 50 years, has devastated British wheat, forcing food manufacturers to import nearly 2.5m tonnes of the crop.
"Normally we export around 2.5m tonnes of wheat but this year we expect to have to import 2.5m tonnes," said Charlotte Garbutt, a senior analyst at the industry-financed Agriculture and Horticulture Development Board. "The crop that came through the winter has struggled and is patchy and variable. The area of wheat grown this year has been much smaller."
Analysts expect a harvest of 11m-12m tonnes, one of the smallest in a generation, after many farmers grubbed up their failing, waterlogged crops and replanted fields with barley. According to a National Farmers Union poll of 76 cereal growers covering 16,000 hectares, nearly 30% less wheat than usual is being grown in Britain this year.
Britain is usually the EU's third biggest wheat grower but it will be a net importer for the first time in 11 years. "Our poll is a snapshot but it is extremely worrying. If this plays out nationally, we will be below average production for the second year in a row," said NFU crops chair Andrew Watts.