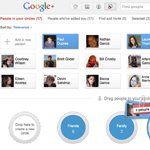 Since the launch of its Google+ social-networking project, Google has been re-working and tweaking the service based on user feedback, and two privacy-related features will be added in the coming days, as well as a more simplified feed.

Google has been burned on social-related privacy issues in the past, most notably via Buzz, which resulted in class-action and Federal Trade Commission settlements. As a result, all eyes are on the search giant when it comes to Google+; has it learned its lesson or do privacy holes still exist?
Part of the reason Google+ is in this "field trial" stage and not open to the public is so the company can get a sense of how people use it and fix any problems that surface before it goes live. To that end, users have already made suggestions that Google plans to implement.