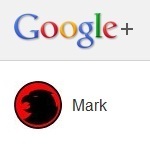 Google's new Google+ social network, currently in a "field trial," can't quite avoid the stereotype that the company's products sacrifice usability for new features. Put simply, Google+ is a social network for geeks.
Unfortunately, Google can't help exposing numerous options to share, hide, protect, and discover photos, friends, videos, posts, and all of the other minutiae that make up today's online social interactions.
Underneath, however, there are some rather elegant features, including a lovely "Circles" interface to add friends, and a "Hangout" group video chat feature that holds promise.