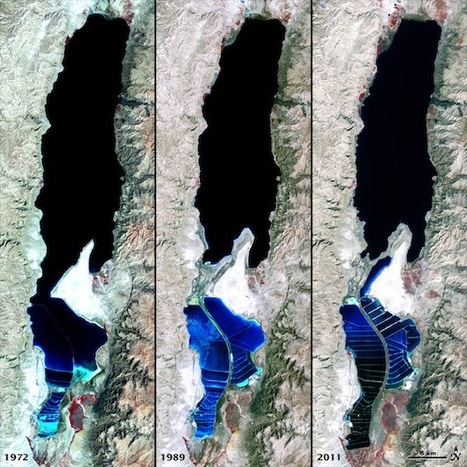 Thanks to massive water-diversion and salt-evaporation projects, satellite images show how the ancient lake is gradually living up to its name.
So why is the Dead Sea becoming smaller and shallower? Largely because of water diversions from the Jordan River, which flows into the Dead Sea from the north. But as NASA explains, intensive salt-gathering projects are also encroaching from the south — and they're especially obvious in these photos. According to NASA:
"The ancient Egyptians used salts from the Dead Sea for mummification, fertilizers, and potash (a potassium-based salt). In the modern age, sodium chloride and potassium salts culled from the sea are used for water conditioning, road de-icing, and the manufacturing of polyvinyl chloride (PVC) plastics. The expansion of massive salt evaporation projects are clearly visible over the span of 39 years."