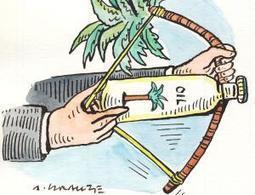 Oil-palm cultivation has wrecked habitats in South-East Asia. We must avoid a rerun if the crop takes off in its native Africa, says Curtis Abraham
The boom in South-East Asian oil-palm cultivation has hit a stumbling block owing to a diminishing supply of new agricultural land. This, combined with economic incentives such as cheap labour, attractive land acquisition terms and low taxes, has seen foreign agribusinesses converting large tracts of land in west and central Africa to grow oil palm.
We can safely assume that the high levels of deforestation, forest fragmentation and biodiversity loss that industrial oil-palm cultivation has caused in Indonesia, Malaysia, the Peruvian Amazon and Colombia will in time occur in Africa, too.
The UN Food and Agriculture Organization estimates that globally, new acreage given over to oil-palm cultivation quadrupled between 1961 and 2007, when it reached 154,000 square kilometres. Much of this was in South-East Asia, which accounts for more than 80 per cent of the world's palm-oil production, but sub-Saharan Africa's contribution wasn't insignificant. According to a report published in 2012 by the environmental group Greenpeace, 26,000 square kilometres there have either come under oil palm in recent years or are earmarked for planting.