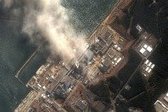 Europe has failed to learn the lessons from many environmental and health disasters like Chernobyl, leaded petrol and DDT insecticides, and is now ignoring warnings about bee deaths, GM food and nanotechnology, according to an 800-page report by the European Environment Agency.
Thousands of lives could have been saved and extensive damage to ecosystems avoided if the "precautionary principle" had been applied on the basis of early warnings, say the authors of the 2013 Late Lessons from Early warnings report published on Wednesday.
They accuse industry of working to corrupt or undermine regulation by spinning and manipulating research and applying pressure on governments for financial benefit. "[It has] deliberately recruited reputable scientists, media experts and politicians to call on if their products were linked to possible hazards. Manufacturing doubt, disregarding scientific evidence of risks and claiming over-regulation appear to be a deliberate strategy for some industry groups and think tanks to undermine precautionary decision-making."