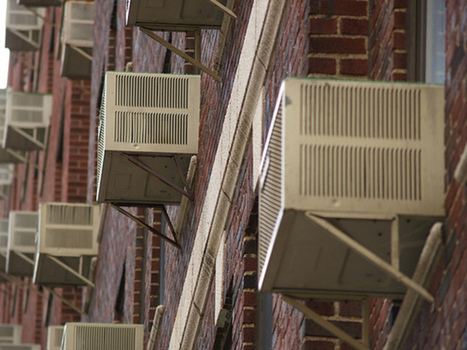 For multiple reasons the topic of air conditioning rarely gets the critical attention it warrants. While earth hours mark the switching off of lights across the office towers of our major cities, little or no public attention is given to the darkened spaces inside that are all too often cooled by inefficient HVAC systems that unnecessarily blanket whole floors with chilled air.

When I walk through Sydney's retail district, passing by numerous bins for recycling, I wonder why it is acceptable that entrances to shops and malls blast out chilled air, seemingly oblivious about their wasteful use of energy. And why is it that millions of office workers now work in spaces where they have little or no control over their thermal envelope, due to the installation of centrally controlled systems?

Air conditioning is one of those areas where the ability for people to make choices, or to enact a desire to live more sustainably has been severely comprised, if not removed entirely.

Myriad challenges face us if we are to counter current trajectories concerning air conditioning usage, and leaving it to the architectural profession alone will never be enough. A public debate needs to be opened up concerning AC, such that we can reduce our dependency on the air conditioner, reduce/penalise wastage, and create more flexible thermal envelopes that respond to, and build on, local climatic and cultural conditions.