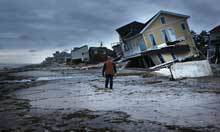 The vital connection between economics and a healthy ecosystem is still not understood by mainstream economists and financial theorists – what will it take?
We are now a couple of weeks into the aftermath of superstorm Sandy and no one has yet improved upon the analysis of Bloomberg Businessweek's 1 November cover story: "It's global warming, stupid."
In 1944, the famous political economist Karl Polanyi explained the root cause of the second world war when he wrote in the The Great Transformation: "The true nature of the international (economic) system under which we were living was not realised until it failed."
Similarly, mainstream economists and financial theorists still do not get the vital interconnection between the true nature of the (economic) system and a healthy ecosystem. What will it take? One complex, indivisible, systemic crisis.