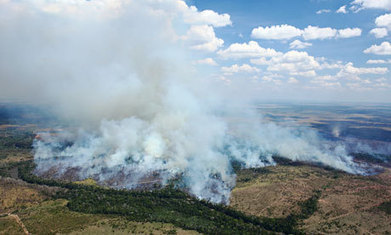 Evandro Carlos Selva is one of 1,400 hi-tech environmental cops who use eyes in space and feet on the ground to patrol a deadly border...
Flames lick up from below the canopy, smoke billows across the horizon, and down below, the carbon that has been stored in the forest for hundreds of years is released into the atmosphere.
Skeletal trees are charred grey, others burnt black. Nearby, what was once forest is reduced to an expanse of ash, dust and embers. Trudging through the debris, Carlos Selva points to a soya farm: "They've been paid to do this. Forty per cent of next year's harvest on this land has already been bought."
The clearance is illegal and Carlos Selva – a ranger with Brazil's environmental protection agency, Ibama – sets in motion the process of levying fines, business embargos and other penalties that have helped to slow the pace of deforestation by almost 80% in the past eight years. This represents impressive progress, but it is at risk. The pressure to convert more Amazonian forest is growing stronger due to drought in the US, rising world food prices and a weakening of Brazilian laws.