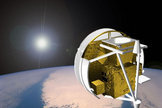 Rising carbon dioxide levels at the edge of space are apparently reducing the pull that Earth's atmosphere has on satellites and space junk, researchers say.
The findings suggest that manmade increases in carbon dioxide might be having effects on the Earth that are larger than expected, scientists added.
The scientists detailed their findings online today (Nov. 11) in the journal Nature Geoscience.