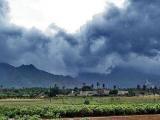 The Indian monsoon - on which more than a billion people depend for food crops - could fail frequently and catastrophically over the next 200 years as a result of global warming.
The researchers define monsoon failure as a drop of between 40 and 70 percent in rainfall, compared with normal levels - something that's never happened in the 140 years of measurements by the India Meteorological Department.
But by 2150, says the Potsdam Institute for Climate Impact Research and Potsdam University team, the rains could be failing every fifth year. India's economy relies heavily on the monsoon season to bring fresh water to farmlands.