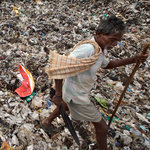 Outside Bangalore's last official landfill, the garbage trucks regularly lined up here for hours, their burdens putrefying in the afternoon sun. A stinking mountain of trash, the landfill has been poisoning local waters and sickening nearby villagers. Another dump site was in even worse shape before it was closed recently after violent protests.
Bangalore, the capital of India's modern economy and home to many of its high-tech workers, is drowning in its own waste. Last week, local villagers blocked the roads leading to the Mandur landfill on the city's outskirts even as many of Bangalore's trash haulers went on strike, saying they had not been paid in months. Some neighborhoods have not had trash pickups for nearly three weeks, and vast mounds of garbage are scattered through what is known in India as the Garden City.
Trash is India's plague.