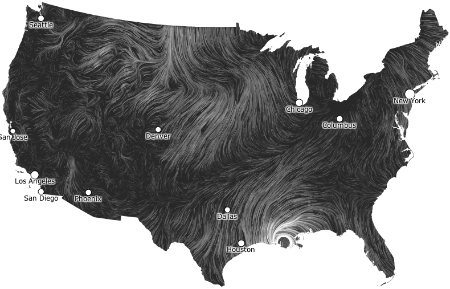 CREATIVITY often comes in pairs: Lennon and McCartney, Watson and Crick, Gilbert and Sullivan, Merchant and Ivory, Brin and Page. Add to that list Fernanda Viégas...
The duo have been collaborating on data-visualisations for a decade, and currently co-direct Google's "Big Picture" visualisation group in Cambridge, Massachusetts. Their most recent work, called "wind map", is breathtaking for its elegance and rich data presentation. (A static image is below).
The animated infographic displays wind flowing over America, measured between one and 30 miles per hour. It uses data from the National Digital Forecast Database, which is updated hourly. One can appreciate the northerly midwestern gales, and dramatically see Hurricane Isaac threatening New Orleans.