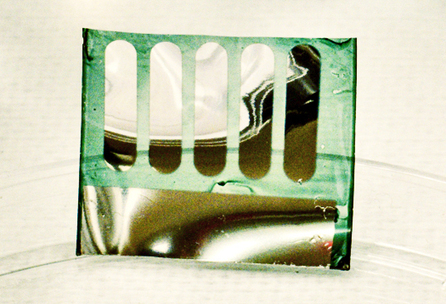 GEORGIA TECH / PURDUE (US) — Fabricating new plant-based solar cells on cellulose nanocrystal substrates means that they're recyclable in water.
The researchers report that the organic solar cells reach a power conversion efficiency of 2.7 percent, an unprecedented figure for cells on substrates derived from renewable raw materials.
The cellulose nanocrystal (CNC) substrates on which the solar cells are fabricated are optically transparent, which lets light pass through them before being absorbed by a very thin layer of an organic semiconductor.
During the recycling process, the solar cells are simply immersed in water at room temperature. Within minutes, the CNC substrate dissolves and the solar cell can be separated easily into its major components.
Professor Bernard Kippelen of Georgia Institute of Technology's College of Engineering led the study and says his team's project opens the door for a truly recyclable, sustainable, and renewable solar cell technology.
"The development and performance of organic substrates in solar technology continues to improve, providing engineers with a good indication of future applications," says Kippelen, who is also the director of Georgia Tech's Center for Organic Photonics and Electronics (COPE).
"But organic solar cells must be recyclable. Otherwise we are simply solving one problem, less dependence on fossil fuels, while creating another, a technology that produces energy from renewable sources but is not disposable at the end of its lifecycle."