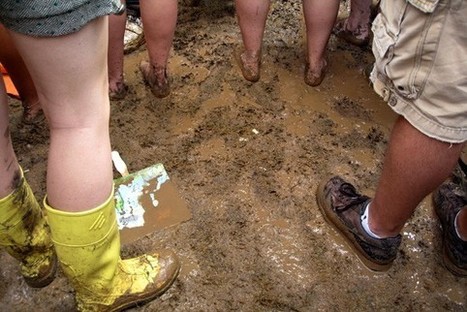 The 2009 Austin City Limits Music Festival stank. It wasn't the bands that were the problem.
It wasn't the bands that were the problem. Earlier that year, Austin had laid sod in Zilker Park, home of the annual fall festival, after years of dust problems, including one gritty festival infamously known as the "dust bowl." In keeping with the city's environmentally friendly ways, Austin used a locally made compost called Dillo Dirt when laying the new grass. But a day of heavy rain and tens of thousands of festivalgoers turned Zilker's lush lawn into a mud pit. Dads toting Texas-orange camping chairs, hipsters decked out in impractical vintage, and college students in bikinis and rain boots all shared the same traumatized, confused expression as they waded into the chocolate-pudding-like sludge: What is that smell? The park was ripe with the scent of human waste.
The culprit? The Dillo Dirt, a compost whose central component is highly treated human waste, known in waste-management circles as biosolids. In cities across the United States, biosolids are being used to achieve greater civic efficiency while reducing costs. But concerns over regulation and health effects and a general uneasiness with our bowel movements—sterilized or not—are providing fodder for punny poop headlines in newspapers large and small.
Humans have been using their own waste as fertilizer for eons, but many Americans remain squeamish about taking the trend to a Portlandia level of green dedication. Nowadays, when you flush the toilet, your waste flows through a multipart system that ultimately discharges treated water into waterways and has standards for how to deal with the leftovers, known as sewage sludge. Until the mid-20th century, cities often dumped raw or partially treated waste directly into nearby rivers, lakes, or oceans. (The 1972 Clean Water Act eliminated most freshwater dumping, but ocean dumping wasn't outlawed until 1988.) Cities then faced the dilemma of what to do with the 7.18 million tons of sewage sludge produced annually in the United States.