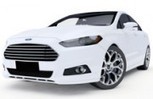 The Ford Mondeo (Ford Fusion in USA) is the first global vehicle program to use seat fabric made from recycled material, with the potential to recycle enough plastic bottles and post-industrial waste to make 1.4 million metres of fabric annually.
One of the suppliers is Unifi, which has developed a yarn branded Repreve. Repreve is a polyester yarn made from recycled PET bottles.
Creating a world of no waste means that markets for recycled materials must be strong and diverse. Steps such as this are steps in the right direction.
Relevant site:
Repreve: http://www.repreve.com/