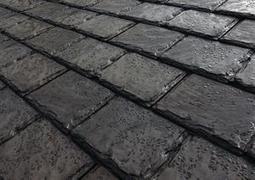 A great article presenting three innovators producing building products from rubber.
Ecore International has developed a way to enable rubber to laminate virtually any surfacing material onto its recycled underlayment. Ecore envisions rubber-backed flooring—which can contain up to 98 percent recycled content—in schools, nursery homes, and multifamily housing.
Global Environmental Manufacturing (GEM) has developed roofing shingles, called Euroshield, featuring up to 70% crumb rubber by weight. They are guaranteed for 50 years.
Avraam Isayev at the University of Akron has developed a way to devulcanise rubber using high-power ultrasound to return rubber to a flowable material. His ultrasound extruder can process about 130 kg an hour. He is aiming for a rate of 500-2,200 kg/hr to convince the tye industry that it is a viable alternative.
Relevant sites:
Ecore International: http://www.ecoreintl.com/index.php
Euroshield: http://www.euroshieldroofing.com/en/about-us.html