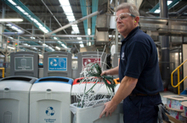 The best way to prevent waste is to deal with it at source. To this end, manufacturers have a huge role to play. Unilever is one of those manufacturers.
More than half of Unilever's factories achieved the goal of sending no waste to landfill in 2012, prompting the company to speed up by five years its goal of zero waste to landfill by 2020.
By the end of 2015, Unilever's 252 factories worldwide will not sent any non-hazardous waste to landfill.