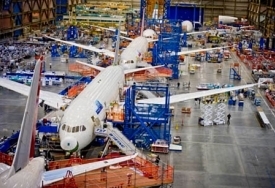 Composites (high-tech plastics and carbon fibre) are used extensively in aircraft manufacture.
Boeing is working with Materials Innovation Technology and ELG Carbon Fibre to recycle raw composites into recycled composites. This is achieved by shredding and then pyrolysis, thus removing the resin from the composites and leaving a lower grade fibre.
Whilst the recycled composites can't be used for structural parts, they can be used in non-structural elements. Doing this is expected to yield environmental benefits and cost savings. The same amount of recycled fibre requires 5% of the energy as producing virgin fibre.
Relevant websites are:
Materials Innovation Technology: http://www.emergingmit.com/
ELG Carbon Fibre: http://www.elgcf.com/