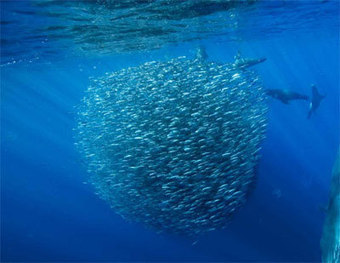 Here is a visionary and concrete proposal on how humanity can create a truly free and peaceful society without coercion of any kind. A decentralized, networked society of rising collective intelligence that transcends any need for laws, legal codes, lawyers, police, courts, prisons or military force.
It presents the idea of how laws are not only becoming unenforceable, but eventually unnecessary given sufficient forkability, transparency and radical material abundance.
The best way to think of a how a highly peaceful and harmonious society could emerge without a legal code is the concept of Stigmergy.
A school of fish is a good example. Each fish is acting in their own best interest and yet they spontaneously collaborate - creating a collectively intelligent order without orderers, an evolutionary adaptation that serves them well! When you try to punch or harm a school of fish, the school forms a hole immediately where your hand went, allowing the fish to escape your grasp. This is how networks route around damage.
Networks allow human beings to do the same thing!