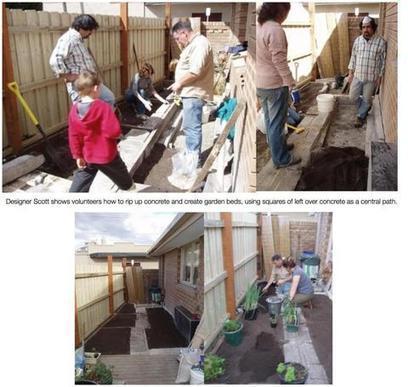 The plan was: my entire front yard lawn would be ripped out and a pretty but water-hungry gardenia bed would be demolished, along with quite a lot of decorative landscaping. In its place, a front yard orchard would be planted.
A newly installed chicken run would weave through this, cementing our reputation as complete eccentrics within the neighborhood. Next to front-yard chickens, the raised garden bed (complete with wicking system) would look almost normal.
The plans for the backyard were even more ambitious. At the rear of the house, a series of raised garden beds (to be built from old railway sleepers) were to encircle our traditional Australian, 1950s style 'Hills Hoist' clothes line.
Massive water tanks would be installed at the side of the house. These would catch the run-off from the roof of both the house and garage. With the right kind of irrigation system (our problem, to be solved later on), we would be able to direct all the water from the roof back into the garden onto our vegetable beds.
What made everything so exciting was the fact that everything was going to happen in 24 hours...