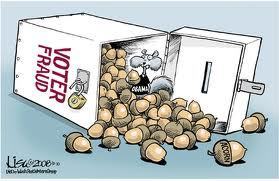 Food Democracy Now is weighing in on Prop 37 vote fraud, having discovered that the California Secretary of State, in charge of all elections in CA, has stopped posting updates on the ongoing vote count.
From November 6 all the way to up to December 4, these updates were posted daily on the Secretary of State's website. Then…blackout. No more updates.
Maybe it has something to do with this: On December 4, YES ON 37 votes climbed over the six-million mark: 6,004,628. Food Democracy Now reported it. Suddenly, the YES ON 37 votes reversed!
That's right. They went back to the previously reported number: 5,986,652.