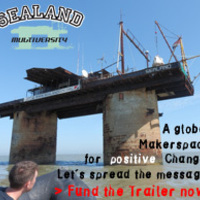 New: a Global Makerspace for Positive Change at Sealand. We are ready for Takeoff and need a Trailer to spread the Message Worldwide. Check it out!
At the autonomous Micronation Sealand, an occupied sea fortress in the northern sea ( www.sealandgov.org ), we founded a global MakerSpace for positive change. The "Sealand Multiversity of the seven seas" bands together activists, scientists and changemakers of all kinds to cocreate open-source solutions for our endangered planet.
We are a growing cocreative crowd that doesn´t want to wait for politics or the big business to save the world. Humanistic inventions and the implementation in big scale can also be achieved by the emerging open society through open-source cocreation and joint grassroots action.