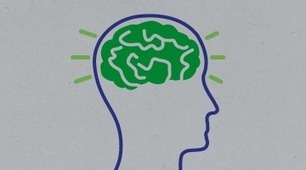 Researchers use electroconvulsive therapy to disrupt recall of specific events.
-
In the film Eternal Sunshine of the Spotless Mind, unhappy lovers undergo an experimental brain treatment to erase all memories of each other from their minds. No such fix exists for real-life couples, but researchers report today in Nature Neuroscience that a targeted medical intervention helps to reduce specific negative memories in patients who are depressed1.
"This is one time I would say that science is better than art," says Karim Nader, a neuroscientist at McGill University in Montreal, Canada, who was not involved in the research. "It's a very clever study."
The technique, called electroconvulsive (ECT) or electroshock therapy, induces seizures by passing current into the brain through electrode pads placed on the scalp. Despite its sometimes negative reputation, ECT is an effective last-resort treatment for severe depression, and is used today in combination with anaesthesia and muscle relaxants.
Marijn Kroes, a neuroscientist at Radboud University Nijmegen in the Netherlands, and his colleagues found that by strategically timing ECT bursts, they could target and disrupt patients' memory of a disturbing episode.