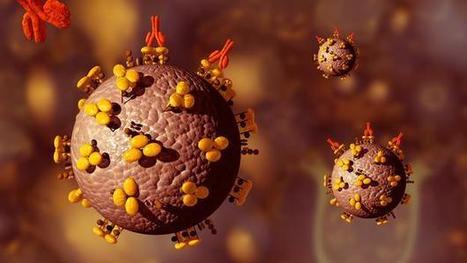 To understand why creating a vaccine that protects us against HIV infection is so hard, we need to understand the virus – perhaps the trickiest foe we know.
-
For around 30 years we have lived under the spectre of HIV. In the early 1980s, the mysterious appearance of symptoms that would later be known as AIDS led to unprecedented efforts to unmask the cause. On 23 April 1984, Margaret Heckler, the US Secretary of Health and Human Services, told the world that scientists had identified the virus that was the probable cause of AIDS. She was correct. She also said that a vaccine would be "ready for testing in approximately two years." She was wrong.
Despite 28 years of research, there is still no vaccine that provides effective protection against HIV, and in that time around 25 million people have died of HIV-related causes. To understand why creating a vaccine is so hard, you need to understand HIV. This is no ordinary virus. Scientists who study it speak of it with a mix of weary frustration and awed reverence.
The virus is the most diverse we know of. It mutates so rapidly that people might carry millions of different versions of it, just months after becoming infected. HIV's constantly changing form makes it unlike any viral foe we have tried to thwart with a vaccine. "Almost every vaccine that's been developed protects against a small number of strains," says Gary Nabel, Director of the Vaccine Research Center at the US National Institute of Allergy and Infectious Diseases (NIAID).