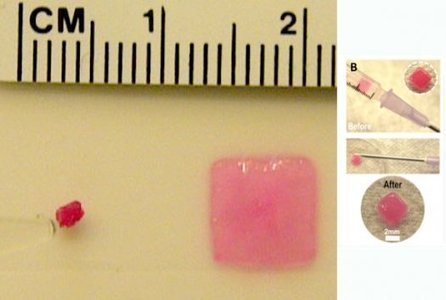 Moldable, Injectable Sponges Left: A fully collapsed square-shaped cryogel rapidly regains its original memorized shape, size, and volume upon hydration. Right: Photos show the placement of a cryogel inside a 1-mL syringe, and the recovery of a square gel after injection through a normal 16-gauge needle. Courtesy of Sidi Bencherif

A new class of gel-based sponges can be molded to any shape, soak up drugs or stem cells, shrink down and be injected into the body, where they inflate to their original size and leak out their contents. They work kind of like those "dinosaur egg" sponges you can get at museum gift shops, where contact with water inflates little pellets into soft dino-shapes. Only they'll be inside your body.
Bioengineers at Harvard and Caltech designed the sponges, which are primarily made from alginate, a gel made from algae. They can be molded into any shape or size and contain large pores, which allow liquids and large molecules to pass through. The pores can also hold cells, proteins and small-molecule drugs, which can then pass into the body when the alginate starts to break down.